Concealed Weapons Police Should Know About – Knives and Blades
Part II of our series on concealed weapons – Knives and Blades
Cat Hands:
Sold as self defense weapons:
Key Knives
Several on the market, sold at self defense stores, hardware stores, gas stations, and novelty stores
Very realistic looking and could be overlooked
Usually the blades are surgical steel and razor sharp
The "Swiss-Tech Utili-Key" has half straight and half serrated edge.
1 Inch Knife Blade:
Pens
A Standard Ballpoint pen casing hiding a 2 5/8″ surgical steel blade, serrated towards the handle. Modified from a Parker ballpoint pen and still writes as a pen.
A Letter Opener:
A Walking Cane Dagger:
Contains both a 5″ and 18″ blade. 
Baton Blade (Holds 2 Double Edged Swords)
Throwing Cards
Lighter Knife:
Several models, usually sold at tobacco shops
Works "stilletto style"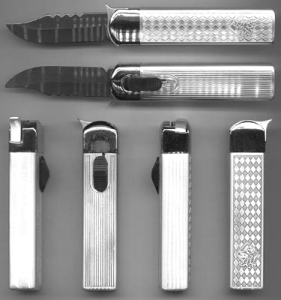 Polymer Knife – No Metal
 Calculator Knife: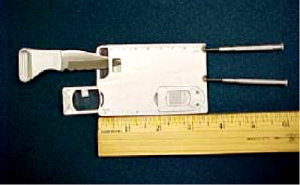 Lipstick Knife
Hair Brush Dagger – Poly-Resin Blade
Bike Seat Dagger – You may not know its there:
See our next article on Places to Hide Concealed Weapons.
If you are looking to buy concealed cameras click here

Trackback from your site.