What is The Best Hidden Camera to Buy?
Which is Better?  Wi-Fi Streaming Technology That's  Viewable in Realtime, or Standalone Hidden Cameras That Record to an SD Card?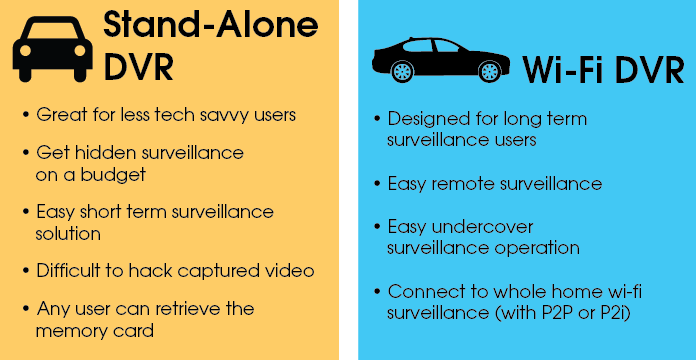 Having been in the business of hidden surveillance for some time we have seen a huge rise in wi-fi devices using apps that allow users to stream the feed from their hidden cameras. At the same time there has been a decline in demand for the traditional stand-alone devices that record captured video to a memory card for later review. Wi-fi technology (sometimes, and not always correctly, referred to as the internet of things) certainly seems convenient and flashy but sometimes value is in the eye of the beholder. Do stand-alone DVRs still have a place in the market and in homes? Let's talk about a few of the pros and cons of each while determining how to spend that hard earned money.
Our battery powered stand-alone hidden cameras and AC powered hidden DVRs have been used reliably for over a decade. Its set-up is relatively simple, a few clicks with the included remote sets time and date, motion activation preferences, recording time. Simply remove the memory card, pop it into your computer and review your captured video as easily as surfing social media. If we're making comparisons this hidden camera DVR is the 1989 Chrysler LeBaron that your parents let you drive in high school. Sure it's a bit stripped down but it won't leave you stranded wondering what your teenagers are doing down in the basement. And speaking of teenagers in the basement, this DVR is no Snapchat nightmare waiting to happen…. a hidden camera that's not connected to the internet is almost impossible to hack.
Now we all want to grow out of that '89 LeBaron at some point. And the shiny new Acura bought with our first grown-up paycheck sure looks nice sitting in the driveway. But in time we're bound to find out that all its bells and whistles mean there's more to maintain. The same principles apply to wi-fi electronics. While we want all our wi-fi gadgets to work without fail, a hidden camera is not an iPhone. For the best user experience we have a couple of suggestions: First, determine if you need Peer to Peer (P2P) or Peer to Internet (P2I) connectivity. Our Zone Shield and Xtreme Life cameras can work with either. For a P2P connection the camera's own wi-fi module generates a signal that you can stream on an app as long as you're in range of the camera. It's great for checking on nap time while trying to get that last little bit of yard work done.
For a P2I connection the camera connects through your router using your network SSID just like any home automation device. Our wi-fi hidden cameras do come with 720p resolution but that HD resolution also means they have a pretty hefty appetite for bandwidth when connected via P2I. Think about how many wi-fi devices are plugged in at your house…. tablets, phones, TV receivers? Our wifi module has a strong signal but it's only as good as your router signal. For the best results we recommend setting the camera to VGA 640×480, the higher the definition the more bandwidth your camera will chew up.
Fortunately our Zone Shield and Xtreme Life families have both stand-alone DVRs and wi-fi connected hidden cameras available. Refer to the table below to determine if your hidden surveillance problems can be solved with the hidden camera equivalent of a spiffy Acura or a reliable Chrysler.
Trackback from your site.